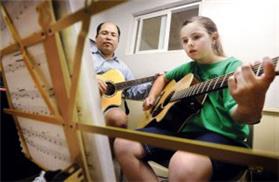 BY TIFFANY HOLLANDWork It, SoVa
When Eddie Cassada's two children went away to college, he and his wife found themselves with a long-awaited empty nest — and more time on his hands.
So he decided to try something new.
"I don't want to sit in front of the TV every night. I want to do something constructive and creative," said Cassada. "I've been married 27 years and working 29 years, and I just thought to do something new and different would be great."
Even though he has never played an instrument, Cassada picked up a guitar and signed up for guitar lessons at Riverland Music in downtown Danville. He has only been at it for a few weeks and it gets frustrating — Cassada described it like a "child learning something new."
But learning something new is often the main reason people take up the guitar. Riverland Music owner Norm Aquilo tells people coming to take music lessons that "music is a language."
Aquilo averages 30 to 45 music students a week. His specialty is the guitar, but there are other instructors that teach people of all ages how to play many different instruments from the piano to the flute.
Recently, to Aquilo's surprise, many of people coming through the front door to learn an instrument are not children or teenagers, but older adults — many retirees and people "just wanting to try something new."
There has been a new surge in clients in the 50s and up, according to Aquilo.
Danville resident Louise Moss is a great-grandmother and ever since she was a young girl she said she wanted to play the banjo just like people she saw in the magazines.
"I always worked and raised a family and didn't have the time," said Moss. "And before Christmas I said I'm just going to try."
Moss said taking up the banjo is one of the hardest things she has ever done, but is hoping the payoff is worth it. During Aquilo's first music lesson, he doesn't just teach students to read music or explain graphic details of the guitar.
In your first lesson, you play — and people can play any type of music they want.
"It is about the enjoyment of music," said Aquilo, who can teach clients to strum the latest pop hits from Kelly Clarkson, older rock n' roll music from Elvis Presley, or anything else they want. Learning to play doesn't mean you have to play classical, he said.
For example, Cassada is an avid Christian music fan and hopes to use his new skill for worship. Two of Aquilo's younger students, Jordan, 9, and Jameson Vogltanz, 12, also got into music through church and are practicing the guitar for fun.
Jameson said he started lessons because he wanted to be a rock star and his sister joined in because she thought it looked like fun. The two practice together just because they enjoy it and hope to keep it up.
But Aquilo said it age doesn't matter when it comes to learning to play and instrument or learning to appreciate it, which is why new people are coming in the music store.
And learning to play guitar is something people can always take with them.
"When I get older and retire, there will be limitations to what I can do," said Cassada. "And hopefully I can do this for a while."
Link to original article:
http://www.workitsova.com/2012/03/20/downtown-danville-business-sees-surge-music-students/
Photo Credit: Steven Mantilla, Work It, SoVa