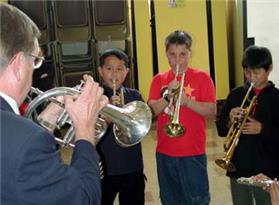 From Lorne Graham, National Affiliate Program Manager, NEMC (June 12, 2012)


This Monday I learned that my high school orchestra director had passed away on Saturday June 9, 2012 after a struggle with Alzheimer's disease during the last several years. Donald Moehnke was a very dynamic person, a truly passionate educator who loved classical orchestral music as much as he loved jazz, and was one of my inspirations to enter into the field of music. As a fellow trumpet player, I had always remembered Mr. Moehnke's story of when he was a young high school student in Eureka, California and was invited by his band director to a master class by world-renowned trumpet virtuoso Rafael Mendez. He was on cloud nine to say the least. To our small hamlet came the world's premier specialist on multiple tonguing and technique, a flashy and fiery performer who was followed by
EVERY
young trumpet player of that generation. (In fact, I still have two of his albums on vinyl that I bought when I was a kid growing up in the 70's and 80's.) Young Don had prepared the perfect question and two follow-up questions for this master that would unlock all the secrets of double and triple tonguing. Of course, when he finally was called on in the Q&A session, his mind went blank and what finally came out was…"Can you play 'Stardust'?" Mendez was gracious and gave him his Carmichael tune, and every trumpet player then and since has continued to be challenged by multiple-tonguing…
Mr. Moehnke, may you find yourself in Gabriel's heavenly brass section next to that new guy Mr. Andre who just joined the orchestra a few months ago.
From author Bob Doran in the April 4, 2002 edition of North Coast Journal Weekly:
IT'S GOOD FRIDAY AT LINCOLN Elementary in Eureka, the day before spring break, and the kids are in for a treat. Instead of one last dose of reading, writing and arithmetic before vacation, they are ambling into the school auditorium for an interactive music program, something called "What is this thing called jazz?"
In a way it's a prelude to Eureka's annual Redwood Coast Dixieland Jazz Festival. Now in its 12th year, the three-day extravaganza is at its heart a fundraiser, according to Kelly Sanders, director of Redwood Coast Music Festivals Inc., the organization that oversees the jazz fest and Blues by the Bay.
While the lion's share of the proceeds go to senior programs ($272,000 so far), since 1996 the organization has begun funding and coordinating projects relating to youth music education.
Don Moehnke serves on the jazz festival committee. He's also a music educator -- and the man who conceived "What is this thing called jazz?"
Moehnke began his career as a music teacher in 1958, worked his way through all the elementary schools in Eureka teaching beginning band, then went to Winship Junior High when it was first built and taught band, choir and strings.
"Then I was asked to go to Eureka High School to teach," Moehnke recalled. "I taught at Eureka High for about 26 years -- band, choir and orchestra, theory classes, etc. Not long after I got there, around '68 or '69, we started the first jazz band class."
When Moehnke was growing up, there was no jazz taught in schools. In fact when his band director, Louis Weichselfelder heard that he had been jamming with some jazz musicians, he frowned on the idea, even threatened to throw young Don out of band.
"He said. `I don't think you ought to do that. It's not really good for you.' We were playing Wagner and John Phillip Sousa, straight ahead things. He told me if I played jazz I shouldn't be in the music building anymore."
Of course, Moehnke did not give up jazz. And it turned out when his teacher found out he intended to stick with it, he softened, even to the point of offering the music building for a practice space -- as long as they kept it a secret.
"He knew we were excited about it, that it was important to us, but because of his schooling he didn't want to be part of it. He was hanging on to what he thought was important. And I don't fault him for it; I learned a lot from him."
Moehnke sites Woody Thompson as another big influence. "He was a jazz player and also taught at Arcata High School. He played in a big band, one I joined later in my life. It was called Eddie Clay and His Band of Today. We played at the Municipal Auditorium. Boy, we packed them in.
"It was what they called a `tenor band.' It had a full saxophone section with two tenors, three trumpets, trombone and rhythm. Woody Thompson was the guy who really ran the band, a great trombone player. All the guys in the band kind of took care of me. I played third trumpet. I started taking my first solos in that band. They'd say, `Don, try it!' I don't know that I did that well."
After Moehnke retired from Eureka High in 1993, Humboldt State asked him to teach music there part time. That was nine years ago, and now he claims he really is going to retire.
"One of my side projects was a series of jazz clinics funded through the Redwood Coast Dixieland Festival by Salomon Smith Barney. They've been really good about helping kids out."
Moehnke led after-school clinics at area high schools and junior highs.
"We worked on jazz tunes, on how to ad lib, how to take a chorus. I was looking back on my own playing and learning how to take a solo was the hardest thing. When you read music on the page it's all worked out for you, but when you take a chorus, you have to improvise with your own ideas.
"When I first started, I thought I always had to have a totally new idea. As I learned, I found that jazz people borrow from each other a lot. I wanted to help kids with that. I'd teach them little ideas they could repeat and put into their solos if they wanted. It's like learning a language and learning new words. I had them play one chorus after another. That way they would lose some of the fright."
Besides supporting the clinics, Salomon Smith Barney donated money to buy musical instruments for Eureka City Schools so that students who may not be able to afford to buy or rent an instrument can use one for free. When Moehnke saw that this year all of the money from Salomon Smith Barney was going to instruments, he used funding from elsewhere for new jazz programs he had in mind.
"The new grant came from the McLean Foundation. I believe it's the same McLean who owned the Eel River mill. After having done these clinics I thought it would be fun to do `What is this thing called jazz?' for the elementary schools."
His intent is threefold: "The first thing I want to do is have young people understand that there is something called jazz, that it is a true America art form. Secondly, I want them to have some idea what it's about, and how we do what we do. Hopefully, third, this will maybe lead them to an interest in hearing more -- or better yet playing jazz themselves someday.
"Jazz is in the roots of so much music we hear today. It keeps expanding and changing and evolving, but it has its roots in what happened in New Orleans, primarily drawing from African and European influences. It's our own music and I want kids to know at least a little bit about it."
In their short program Friday, Moehnke and company swept through jazz history, breaking down tunes by Louis Armstrong, Duke Ellington, Miles Davis and Sonny Rollins as object lessons in swing, cool jazz and Latin influences.
Moehnke says he does the same sort of thing in his college course on jazz. "History has to be presented with some sort of excitement to it -- with a hook, if you will."
After the session at Lincoln, the school's music teacher, Mike La Bolle, returned with his students, a small group of fifth graders, all of them new to music. Some bought along drum sticks; trumpets, flutes, a clarinet and baritone horns were unpacked.
With Moehnke's band playing an Ellington tune, "Duke's Place," the students took turns playing a solo, albeit one that only required one note.
"By the end of the session I wanted each of them to have played one chorus by themselves," said Moehnke. "Playing a solo with a professional group is something I never got to do at that age. I'm hoping they will remember the experience."
After spring break and the jazz festival are over, Moehnke and company will return to the Eureka school circuit. Before they're done they will play at all seven elementary schools. A related program will bring trumpet player Mike Vax as a guest artist with various groups at the jazz fest, then at jazz clinics in high schools and middle schools around the county.
This weekend Moehnke will be playing at the jazz festival with his band, Nice `n' Easy, first on Thursday at OH's Town House for the pre-fest Taste of Main Street, then at Club West Saturday morning. The band includes pianist Patty Holbrook and two of the musicians who played with him at Lincoln. Don's son, Bill Moehnke, is the drummer and Bear Winkle plays bass.
Bill and Bear are also members of Humboldt's steady rolling Dixieland combo, the Hall Street Honkers. Winkle also sits on the jazz festival's band selection committee with Don.
"Bear is an unsung driving force for the festival. I'm just amazed at how he's able to set the schedule, work those bands and make them come together without too much ill feeling," said Don.
Early in the festival's history, the selection committee realized that the Dixieland fest had to evolve to remain viable. While the initial lineup was designed to attract those who follow the Dixieland circuit, that audience alone was not enough. To attract more attendance from the local residents, other types of music were added to the mix.
One of the first "alternative" acts added, Pieces of Eight, returns this year. The core members of the swinging R & B combo from Los Angeles played with the late Joe Liggins in the Honeydrippers, a band named for his signature tune, one of the first big R & B hits in the mid-'40s.
While Pieces of Eight offer a less traditional take on jazz, some of the new additions are not jazz bands at all. Gator Beat from Sonoma mixes Cajun, zydeco and New Orleans funk to keep people on the dance floor. The Compost Mountain Boys play steaming bluegrass. The HSU Calypso Band has a Caribbean steel band sound.
This year's festival also continues a tradition begun a few years back: a venue aimed at those who have no interest in Dixieland jazz whatsoever. Aside from the Sunday hymnals, the Eureka Municipal Auditorium steers clear of traditional jazz (aka "trad"). The headliners, Sista Monica and Elvin Bishop, are acts that come to the Dixieland festival from Redwood Music Festivals' other event, Blues by the Bay.
While these variations on the jazz theme have succeeded in drawing a wider demographic from the local market, there is an unintended side effect. The festival's band selection committee knows full well that trad jazz fans can be touchy. Some will not travel to attend a festival if they don't think there's enough pure Dixieland jazz in the mix.
"The trad people can be really hardcore," said Moehnke. "Some of them follow the trad bands all over the country or all over the world. They'll look at your lineup and say, `Well, they need one more trad band before it will be any good.' They'll count then say, `They've got just enough trad; I'm going to go.'"
That's where Winkle's skill comes in. Study the schedule and you will see that he has programmed the lineup so that trad aficionados can always find something they like without having to roam too far. The Eureka Inn and the Masonic Hall offer programs that are almost exclusively trad. Then you have the Adorni Center where you could stay all day for a program ranging from bluegrass and zydeco to swing and trad.
Originally published
April 4, 2002
by
North Coast Journal Weekly
, author
Bob Doran
http://www.northcoastjournal.com/040402/cover0404.html