WE'RE ALWAYS LOOKING FOR NEW TALENT AND YOU MIGHT BE RIGHT IN TUNE
WHAT WE DO
Well, we are a music company who deals with musicians from beginner to pro! We rent instruments for kids so they can make beautiful music. We also sell everything a musician's heart desires. Our atmosphere is fun, laid back and all about trust, quality and keeping the beat! One last note - you don't need to be a player yourself, just have passion for supporting those who do...or want to learn.
How to apply
To apply please send resume and cover letter indicating position of interest by mail to:
NEMC,
HR Dept,
1110 Centennial Ave,
STE 2, Piscataway,
NJ 08854
or email at [email protected]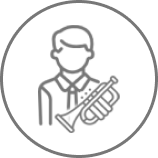 Job Title
Experienced Band Instrument Repair Technician
Department
NEMC Service Center
Position Summary
NEMC, a 60+ year old family-oriented school music dealer seeks a senior level brass and woodwind technician.
This is a career-oriented position with a locally owned, nationally recognized company based midway between New York and Philadelphia with all the performance and cultural opportunities those metro areas provide.
Freshly built in 2019, the 18-station workshop features all the modern tools and a large inventory of parts, separate buffing room, wet room, and loads of natural light. Sales, distribution, and management offices are housed in the same building fostering a culture of collaboration and easy access to resources.
Essential Duties and Responsibilities
+
Education and Experience
+
Physical Demand & Work Effort
+
The company enjoys an excellent reputation for quality and the ideal candidate will have the same along with experience in both rental fleet production and school owned instrument repair. Salary is commensurate with experience.
Relocation assistance available for the right candidate.
NEMC provides an excellent benefit package for employees, including:
Health Insurance
Dental Insurance
Vision Insurance
Basic Life & AD&D Insurance (Paid by the company)
Supplemental Life Insurance for an employee and employee's spouse
Supplemental Long Term Disability Insurance
Paid Vacation Time
Paid Sick Time
Company Paid Holidays
401(k)
Flexible Spending Account
Take your career to the next level by applying today at [email protected] or call Ken at 908-232-6700 Ext. 230 for a personal consultation.
Click on the button below to apply.