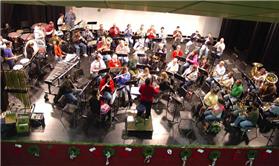 By Brigid Beatty, 12/17/12
KITTANNING — Jolena Reefer and her mom, Susie, have been big supporters of the annual Armstrong Christmas Ensemble. But this year the ensemble will be playing its holiday concert to support them.
Every year the ensemble performs a free concert to help benefit someone in the area, said director Mary Gibbons.
The Reefers, who have been hit hard by illness, were chosen to be the recipients of this year's benefit.
"We're very honored and grateful," said Jolena.
Jolena, 29, of Kittanning, was diagnosed with late stage Lyme disease and has been sick since 2010.
By Thanksgiving Day of last year, she said she had lost weight, lost her memory, couldn't drive, couldn't work and was confined to a wheelchair. Since receiving treatment she has started to slowly regain her strength. And although she has not yet been able to return to work, she just recently started driving again.
However, just as Jolena's health started to improve, Susie's began to decline.
In September, Susie was diagnosed with stage-four lung cancer – caused not from smoking, but from a genetic mutation.
Jolena said her mom is doing a clinical trial with UPMC, taking pills designed to slow the spread of the disease.
"Her biggest hurdle is her energy," said Jolena, adding that her mom is resting up and hopes to attend the concert on Thursday.
Friends and family have been there through everything and have been very supportive, said Jolena.
And so have area businesses and agencies who have stepped up to provide gift baskets to be raffled off at the benefit concert.
"We're grateful to church groups, to the (Richard Snyder) YMCA, to F & M Bank and to the Area Agency on Aging," said Jolena.
Jolena, who has been playing the piano since she was 5, said she loves the idea of the Christmas Ensemble.
She said music has been an emotional outlet for her throughout her life. Playing piano was one of the few things she was still able to do during her illness.
Jolena, who plays piano at Furnace Run Chapel, graduated from Kittanning High School where she was a member of the school band.
"A lot of my friends are playing in the concert," she said.
Gibbons said the original brainstorm for the ensemble came from Kittanning Firemen's Band members Nick and Mike Totos and Tyler Woodside.
The ensemble is made up of members of the Kittanning Firemen's Band, the Armstrong Concert Band, Gibbons Big Band, the Butler Symphony and members of the Kittanning, Ford City and West Shamokin high school bands.
Jolena said she likes the fact that musicians of all ages get to play music together.
"It's a really good opportunity for teens to play with adults in a more serious ensemble," she said.
Gibbons said the ensemble is made up of approximately 80 musicians and includes students, music teachers and retired music teachers.
"It has truly become a community affair and a wonderful outpouring," said Gibbons.
Brigid Beatty is a staff writer for Trib Total Media.
View the
original article
.