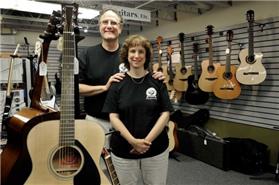 By Dirk Perrefort
BETHEL
-- For the past three decades, Bruce Treidel has been encouraging future generations of musicians.
While Treidel started his career as a music teacher in Redding in the early 1980s, he quickly realized that he wanted to do more to encourage music education of young students. Treidel and his wife, Dana, had always dreamed of running their own music store.
"At the time there really wasn't any store in the area that supported music education the way I felt it should be supported," he said. "So we decided to go for it. That was 30 years ago and we're still going strong."
When Treidel first opened Bethel Music Center on Greenwood Avenue, most music shops in the region were focused on guitars, he said.
"I wanted a place that could offer more band and orchestra instruments, as well as sheet music and instructions for kids who wanted to continue their music education after school," he said. "At the time, there wasn't much of that around."
Treidel had about 40 students who helped him make ends meet in the first few years, he said, but it was a tough road in the beginning.
Dana Treidel, who worked in the store during the evening, supported the family in the early days of the business while working in the area as a secretary.
But eventually the business caught on, and in 2008 they moved to a much larger location -- from 800 square feet to more than 3,500 -- downtown near the Bethel Cinema.
The walls of the shop are lined with letters of appreciation from area schools, letters and certificates that span the decades. Today, the business is renting more than 700 instruments annually to students in schools throughout the region, including Danbury, Brookfield and Bethel high schools.
While there are many competitors, especially online, Treidel said it makes for a better business.
"To be a viable business today, you really need to have an online presence," he said. "People pre-shop us through our website all the time. But buying an instrument isn't like buying a chainsaw. People like to see and feel an instrument before they buy it."
A variety of area musicians are expected to stop by the store on Saturday during the business' 30th anniversary celebration. New products and other specials will also be available during the celebration.
Bill Schroeder, chairman of Bethel Arts, an offshoot of the Bethel Chamber of Commerce, said the music center is one of the most prominent and longest-lasting arts-focused business downtown.
"To think about the thousands of students who have been through the center over the years, and the impact it's had on their lives, it's just amazing," he said.
"For us, our job as artists is really to pass on the art form, in this case music, from one generation to the next," Treidel said. "Just imagine how empty and unfulfilling life would be without music."
[email protected]
Published at
http://www.newstimes.com/business/article/Bethel-Music-fills-students-with-song-for-30-years-5684177.php#photo-6715912