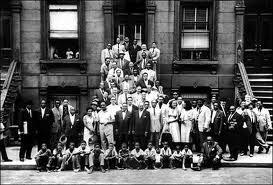 By Lorne Graham, National Affiliate Program Manager, NEMC
As a professional musician and film lover, I will offer recommendations to visitors to the nemc.com website on music-based films that are inspiring, joyous, artistic, and exhibit fine filmmaking. Parents can find additional information on these films' appropriateness for your children at www.kidsinmind.com or www.imdb.com.
Growing up in a provincial northern California town, I was drawn in the late 1970s to a new program on the local PBS station, "Sneak Previews," and was an instant devotee to both film critics, Gene Siskel and Roger Ebert. Today I read Roger Ebert's reviews every week and continue to be inspired by his writing. Many of the films I will write about may be available On Demand, on Netflix/Amazon Prime/Hulu, at your local library, or at your local video store (if there is one in your town). Please also feel free to visit www.rogerebert.com for terrific film reviews.


A Great Day in Harlem/The Terminal
Out of all the genres of music in the world, I must admit that my favorite is jazz. In my formative years, my parents had a reel-to-reel tape recorder and two phonographs (one 1920s Edison that plays the old cylinders and a modern version), and I was exposed to many forms of music: George Szell and the Cleveland Orchestra performing Beethoven's 5th Symphony, Herb Alpert and the Tijuana Brass, Al Hirt, Doc Severinsen, Arthur Fields singing Irving Berlin's "Oh, How I Hate to Get Up in the Morning," an album of Disco hits, the soundtrack for the TV show "Happy Days" (with a picture of the
Fonz
on the front), and The Firehouse Five plus Two. Through all of these I always came back to jazz.
One of my favorite films I have seen about jazz is "A Great Day in Harlem" (1994), a 60-minute exploration into the making of probably the most famous (group) jazz photo. In 1958, a young art director named Art Kane was working at Esquire magazine and was assigned to take a photograph for a cover story on jazz, a special tribute for the editor who was a huge jazz aficionado.
Kane was not a photographer by trade, but being hungry, he jumped at the chance. He and his small team were able to miraculously gather over 50 jazz greats at a Harlem brownstone on a Tuesday morning. The photo stands as a veritable Who's Who of jazz in 1958, including Count Basie, Dizzy Gillespie, Thelonious Monk, Gerry Mulligan, Rex Stewart, Pee Wee Russell, Charles Mingus, and Art Blakey. (Special note: As of early 2013, four of the group continue to make music.)
The interviews with Dizzy, Milt Hinton, Marian McPartland, Horace Silver and Benny Golson put you there on that Saturday morning, nervously waiting to see if anyone will show up. Because jazz musicians generally lead rather nocturnal lives, it was rather humorous when one of the musicians muttered aloud that they "didn't even realize there were two 10 o'clocks in the day." Because most of these players were so busy playing for a living, they really only knew each other by reputation and had never met in person. This is a fine film for any musician or music fan who wants to be enlightened about this most improvisatory music.
Now that you have seen "A Great Day in Harlem," I would suggest a delightful Steven Spielberg film from 2004 as the second film in your double feature, "The Terminal." Tom Hanks plays Viktor Navorski, a tourist from a fictitious eastern bloc country, planning to visit New York. When a military coup occurs while he is in the air, he is essentially stranded as a man without a country, in the international terminal at JFK. His ingenuity and resourcefulness help him create a life for himself within the terminal, and he immediately begins to form friendships with those employed within and without the airport terminal.
My son's piano teacher, a very talented jazz pianist himself, was delighted with the pairing of these two films, and I will leave the connection for you to discover…

A Great Day in Harlem – Not rated
The Terminal – Rated PG-13 for brief language and drug references