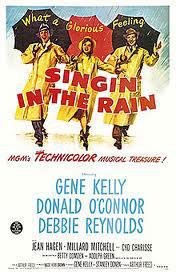 By Lorne Graham, National Affiliate Program Manager, NEMC
As a professional musician and film lover, I will offer recommendations to visitors to the nemc.com website on music-based films that are inspiring, joyous, artistic, and exhibit fine filmmaking. Parents can find additional information on these films' appropriateness for your children at www.kidsinmind.com or www.imdb.com.
Growing up in a provincial northern California town, I was drawn in the late 1970s to a new program on the local PBS station, "Sneak Previews," and was an instant devotee to both film critics, Gene Siskel and Roger Ebert. Today I read Roger Ebert's reviews every week and continue to be inspired by his writing. Many of the films I will write about may be available On Demand, on Netflix/Amazon Prime/Hulu, at your local library, or at your local video store (if there is one in your town). Please also feel free to visit www.rogerebert.com for terrific film reviews.


Singin' in the Rain
In considering film as an art form as important to study and nurture as art and music, I find myself drawn to certain movies I grew up with that became classics. There were certain television shows (A Charlie Brown Christmas) and movies (The Wizard of Oz, Willie Wonka and the Chocolate Factory, It's a Wonderful Life, The Sound of Music, Singin' in the Rain) that were aired once per year, and helped develop a clear sense of morality, ethics and goodness that is timeless and very joyful.
The film musical was a veritable staple for movie audiences since the 1927 debut of "The Jazz Singer," flourishing through the 1950s. It has changed form and style ever since, and its popularity has waned quite a lot; however, the finest musical ever created was MGM's 1952 masterpiece, "Singin' in the Rain."
"Singin' in the Rain" has it all: a typical boy meets girl story, terrific dance numbers with choreography by the incomparable Gene Kelly, and laugh out loud comedy scenes. The entire story, which takes place during the 1927 transition of movie studios from silent films to "talkies," was based around the song library of lyricist and MGM producer Arthur Freed. Screenwriters Adolph Green and Betty Comden came up with the story after purchasing a home from a silent film star whose career had been scuttled when "talking pictures" were introduced. Unfortunately, many careers were derailed during this time because many of the great dramatic actors of silent film who had immigrated to the US were unable to learn English effectively to meet the demands of this new film medium.
From a fantasy scene of a new player in town trying to land a gig in Hollywood, to the struggle of the studio head, his top star and the set accompanist trying to figure out how to convert their completed silent movie into a "talkie," this movie is an unforgettable piece of film craft. It was shot in beautiful Technicolor with a very talented cast including Gene Kelly, Donald O'Connor, Debbie Reynolds (only 19 at the time), Jean Hagen, Millard Mitchell and Cyd Charisse. It was co-directed by Kelly and Stanley Donen.
Years ago, just to prove that the film's comedy was universal and not just funny to me, I would challenge my private music students and offer them a $10 reward if they could watch "Singin' in the Rain" through without laughing once. The best experience was when a middle school student was determined to win (I knew "
Make 'Em Laugh
" would eventually get him), and he instead lasted all of 30 seconds into the opening scene. If you have never seen "Singin' in the Rain," you owe it to yourself to see the finest movie musical ever produced.
Rated G - Suitable for all
.