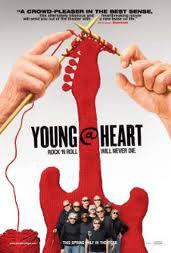 By Lorne Graham, National Affiliate Program Manager, NEMC
As a professional musician and film lover, I will offer recommendations to visitors to the nemc.com website on music-based films that are inspiring, joyous, artistic, and exhibit fine filmmaking. Parents can find additional information on these films' appropriateness for your children at www.kidsinmind.com or www.imdb.com.
Growing up in a provincial northern California town, I was drawn in the late 1970s to a new program on the local PBS station, "Sneak Previews," and was an instant devotee to both film critics, Gene Siskel and Roger Ebert. Today I read Roger Ebert's reviews every week and continue to be inspired by his writing. Many of the films I will write about may be available On Demand, on Netflix/Amazon Prime/Hulu, at your local library, or at your local video store (if there is one in your town). Please also feel free to visit www.rogerebert.com for terrific film reviews.
Young@Heart
For the feel good documentary of 2007, one only has to view Stephen Walker's Young@Heart. This is a very charming, heartwarming and heartbreaking film about an extraordinary chorus based in Northampton, Massachusetts, with a median age of 80! British filmmaker Walker saw the Young@Heart Chorus in England during their European tour in 2005 and knew he needed to get the word out about this incredible group of "seniors behaving badly" who were as moved by the music themselves as much as they moved others.
Just so you don't think these singers are mired in your "typical" senior citizen mix of Lawrence Welk and Mitch Miller oldies but goodies, this chorus sings everything from OutKast to The Beatles, The Rolling Stones to Coldplay and Sonic Youth. The group is first introduced with a primal scream from 92-year old Eileen Hall, a real flirt, who fronts the chorus for The Clash's "Should I Stay or Should I Go." The film covers the chorus's seven-week preparation for their big Northampton spring concert in 2006. It moves through difficult and taxing rehearsals on seven new songs, many health issues with a number of the members, and an emotional concert for inmates at a local prison. What is especially uplifting about this film is the high level of dedication of the members who will do everything they can to attend rehearsals and performances because they experience such joy in creating music.
The chorus was started in 1982 by Bob Cilman, a passionate music director who has a flair for choosing very eclectic programs which may challenge each member. He creates such an incredible sense of camaraderie and purpose that viewers may very well find themselves searching for a local choral outlet for their own creative energies. This is a film about the incredible power of music.
Rated PG for some mild language and thematic elements.