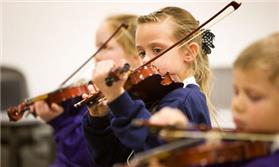 Behind the music: Why music education cuts could be a dumb move
By Helienne Lindvall,
The first things to go when there are governmental budget cuts are "luxuries" such as arts funding. Education secretary Michael Gove's decision to declare music students ineligible for the new English baccalaureate certificate sends the message that music education is another luxury we can live without. As does cutting the £82.5m a year in funding specifically aimed at providing music education – not to mention the news that one in four councils have already issued redundancies for music teachers.
What these decisions appear to ignore are the overall benefits music lessons provide to children and teenagers. Growing up in Sweden, I went to a music school that provided regular academic education with extra lessons in music and choral singing. The school, called Adolf Fredriks Music Skola, was free of charge, and the students – from age 10 to 19 – were accepted through auditions. At the time, it was the only school of its kind in the country. What's interesting is that the school regularly came top for average grades of all subjects. As there is no proof that musicians are cleverer or more academic than others, there must be another reason for these results.
First of all, there was less truancy: if you cut class you would also lose out on music-making at school. Singing together created a sense of community and connection between students, making school something students looked forward to instead of dreaded. There's also been evidence that learning an instrument can improve numeracy and literacy skills in young people, as well as behavior.
A friend of mine told me about a London scheme in which he'd taught music programming and recording to teenagers in a studio made available through government funding. The young people had been placed on the scheme after being deemed "problem students" due to their high rates of absenteeism. The change in their behavior was palpable, according to my friend. It was as if creating music brought out a sense of purpose and self-worth that had previously been absent.
Music lessons shouldn't be seen as an optional extra for students who desire a career in the field (just as sport in school isn't just for children aiming to be professional athletes). The majority of my fellow students at Adolf Fredriks did not become musicians, nor did they desire to.
Judging by the comments on my recent Comment is Free blog, about how listening to great music makes the brain produce dopamine, it's clear that music is a great source of passion, joy and wellbeing (in fact, just reading the comments made me feel good). Part of the point of music education is for children to be exposed to music they wouldn't normally come across. If music classes were cut in public schools, this opportunity would be the sole preserve of the middle class.
The decision to wipe out funding for the teaching of arts and humanities courses at universities means becoming a classical musician, for example, could be less about talent and more about independent wealth. Even conservative estimates believe the cost will be over £7,000 a year.
But all is not lost – yet. The government has commissioned Darren Henley, the head of Classic FM, to carry out a review of music provision in schools, which is due to be concluded this month. When cuts to libraries were announced last year, writers such as Philip Pullman, Kate Moss and Will Self publicly fought the decision. Why haven't famous British musicians done the same? Maybe Damon Albarn – who this week agreed to become president of the Colne Valley Youth Orchestra, with whom he played violin 30 years ago – could set the ball rolling.
View original article
here
.