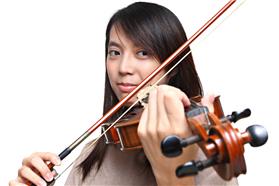 by Larry Newman, Director of Children's Music Workshop
The excitement of a new adventure is enough to provide an ample supply of positive motivation for the first several weeks of the instrumental music experience. Once the initial enthusiasm wears off, it is important to immediately develop wholesome practice habits which will guarantee a successful and personally gratifying process for your child. Your support and guidance will be the key factors in establishing the practice schedule insuring the attainment of musical goals.
For our first year elementary players, we like to see three days per week of home music practice - even if just a few minutes. The first year is "exploratory" and our goal is to instill a love for music. We encourage students to play at home for their parents. Practice is encouraged but not heavily stressed.
The most effective home rehearsal program for the second year elementary players is based on a fifteen minute session four to five times per week dedicated to quality practice. It is suggested that you and your young musician mutually agree on a practice time, and a special area of your home designated for their area of musical study. A final one or two minute recital is always effective in building performance responsibilities.
Every instrumentalist enjoys the opportunity to display their talents. You might even ask for a paragraph of what new progress was made during the practice. A special calendar can also serve as a reminder as well as a reward poster for the commitment needed to accomplish the assigned material. Remember, positive reinforcement is the most effective communication you can share in this important quest.
As students mature, it is vital to develop a discipline which makes home music practice a natural part of the day. Although many new concepts are taught during instrumental music rehearsals, the limited time does not afford the personal attention which is vital in developing the technical facility required for the upcoming years of musical exploration. The cooperative efforts of the instrumental music director, the student musicians and the willing parent/s constitute the proven recipe for success.
Let your kids explore music.
The first year a child plays an instrument is an exploratory year. The goal of the music educator is not to quickly turn a child into a virtuoso, but to help instill a love of music.
Try group lessons.
We find that most kids do better in group lessons because they like the social interaction.
Show up for lessons.
Parents should try to attend a child's first few music lessons. Knowing what's going on in the class will allow you to better help your young music student at home.
Help kids learn the basics.
Learning the fundamentals is very important. Violin students, for example, will need to learn to hold the bow correctly and develop proper posture.
Stay connected.
One of the most important things you can do as a parent is to stay in touch with your child's instructor. You may find that email is the easiest way to do this.
Keep the instrument handy.
Children can get really attached to their instrument. It's important for parents to leave the instrument out, rather than storing it away, so that the child can always have access to it.
Don't make practice a chore.
In the first year of study, don't force practice. Instead offer encouragement and show that you're interested in how your son or daughter is doing. When you're folding laundry or doing paperwork, for example, have your child perform a mini concert of songs he or she is learning.
Don't expect flawless play from your young musician. The clearest indication that child is successful in music education is that he or she will show love and enthusiasm for the music.
Instrumental music means more to your child than just playing an instrument. It offers an opportunity to experience a whole new level of communication. This artistic language will be with them for a lifetime. These formative years of music education can open up a world of aesthetic possibilities which will bring new meaning to the growth and development of your child. Let us join hands in establishing a solid foundation of growth by creating a disciplined practice schedule at the onset of their instrumental music career.
Click here to view the original article.